Tristan Swanson Motorsports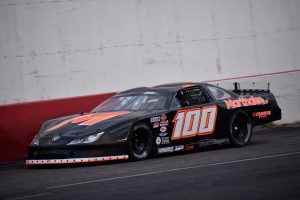 Tristan is already a veteran racer at just 17 years of age. A multi time champion, with multiple feature wins, Tristan has driven to the front of the motorsports world at a very young age.
Starting his racing career at the ripe old age of 4 ½ years old in Quarter Midget racing the world got their first glimpse of what was to come. In those first seven years of racing, Tristan amassed FIVE championships and several runners up positions. In 2014 Tristan and his team swept the championships in all four classes of eligibility in his region.
The following two years Swanson Racing added a Bandolero to the racing schedule with several top five finishes over that two-year period.
In 2017 Tristan and his family moved to the Legends Car Division at Elko Speedway. That first season in Legends car was a great move with 3 feature wins, and the Elko Speedway Legends Rookie of the Year title. 2018 did not slow this team down as they kept their spot at the front of the field with a 4th place finish in the Legends standings at Elko Speedway.
2019 brought a new opportunity, and again Tristan Swanson Motorsports was up to the challenge. Tristan and his team contested their season at the Dells Raceway Park bringing home two great awards; Along with the Legends Fast Dash award for the most points accumulated in the Legends Fast Dashes at Dells Raceway Park, Tristan was crowned the 2019 INEX Legends Champion.
Tristan's legends career would continue in 2020, at the same time, the team expanded their racing operation to include modifieds, limited appearances in a Late Model and in a Midwest Truck. With multiple top five finishes in this multitude of vehicles, Tristan finished second in the Legends division at Dells Raceway Park as well as gaining experience for what was next.
Again, a challenge was offered to Tristan and his family when they partnered with Aaron Marthaler. Tristan Swanson Motorsports would compete a full schedule with the Midwest Truck Series, several modified, legends and a limited number of Super Late Model events in 2021. Tristan and his team showed again why Tristan and his team are a force to be reckoned with, no matter what level they compete on. With several wins and consistent top 5 and ten finishes in Midwest Truck Series, Tristan was crowned the 2021 Midwest Truck Series Champion at just 17 years old. Along with his championship Tristan was also awarded the 2021 Midwest Truck Rookie of the Year.
2022 will see Tristan Swanson Motorsports step full time into the pinnacle of short track racing. Tristan has a schedule of Super Late Model events that will cover a regional to national footprint. Based on past campaigns expect Tristan Swanson Motorsports to be a front runner.