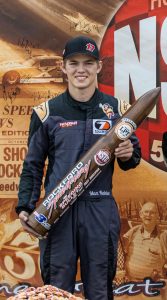 In 2016 at the age of 13, Max started his Late Model racing career. As a second-generation driver Max began racing at Jefferson Speedway, in Cambridge, Wisconsin, where he became the youngest driver to win a qualifying race.
From 2017-2019 Max Kahler Racing participated full time in the Late Model Division at Rockford Speedway in Rockford, Illinois. In that three-year period, we won nine feature events.
Max Kahler Racing finished fourth in the points standing, in the 2017 season Max was named Rookie of the Year for 2017. This was a historic event as Max became the youngest driver in the then 70-year history of Rockford Speedway.
More accolades came in 2018, as Max and his team finished third at Rockford Speedway points standing. This also propelled Max to a second place points place in the State of Illinois NASCAR weekly racing series standings. And finished the season with a second-place finish at the prestigious Rockford Short Track Nationals.
Max and his team continued to show consistency and that front runner mentality in 2019. Max and his team collected 7 Fast Qualifier awards, Winning the award for most Fast Qualifiers and propelling him to 3rd in the final season points standings at Rockford Speedway.
2020 found Max Kahler Racing expanding their geographic footprint for their partners by competing in the Big 8 Late Model Series, and selected races at Rockford Speedway. Max Kahler Racing expanded into Super Late Model racing at select events.
At age 17 Max won three weekly events at Rockford Speedway, the Big 8 Late Model Championship and won the Prestigious Rockford Short Track Nationals. By winning at age seventeen Max broke the record for the youngest winner in Short Track Nationals history, beating NASCAR Hall of Fame Driver Mark Martin record of 18 years old in 1977.
For the 2021 season Max and his team continued their growth as racers and as a spokesperson. Max and his team participated in the TUNDRA Racing series, the Alive for 5 series and a variety of ARCA Midwest Tour events and the Slinger Nationals. Max Kahler racing finished the season with 2 wins, eight top five, and eleven top ten, in the premier level of short track motorsports in the Midwest.
In 2021 Max was a participant in the Alan Kulwicki development program. This program not only helps a racer on the track, but this program also assists spokespersons in motorsports how to brand your company.
These successes have driven Max Kahler Racing to invest in a new car, Max and his team are defiantly a team on the upward trend.