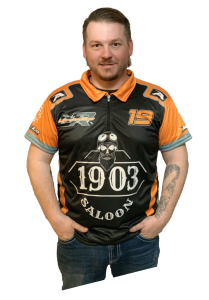 Jake Jump started his racing career in 2003 at the age of thirteen, running weekly in the Minicup Series at State Park Speedway, racing adults twice even three times his age and with a great deal more experience than this rookie.
That first-year experience was put to significant use in 2004, when Jake won the State Park Speedway Minicup championship in just his second year.
In 2005 Jake took his team into the Central States Region Supercup series. Through the next three years Jake and his team would compete and win several times with the Central States Region Supercup series.
Jake was out of the driver's seat for a period while attending the NASCAR Technical Institute in Mooresville, NC. After graduation Jake returned to be a key member of several asphalt and dirt teams, continuing that education with the firsthand experience of working with these teams.
In 2020 Jake partnered with Travis Wiesenbeck a Pro Late Model car owner out of Wausau, Wisconsin. Travis and Jake were in competition weekly at the highly competitive Dells Raceway Park. Jake was in his rookie season at Dells Raceway Park and in a full sized Pro Late Model. They made great progress; however, they knew they had more in them as a team.
Jake and his family purchased their own Pro Late Model for 2021 and hired full-time crew chief Josh Schmidtke. This proved to be the right move for Jump Racing, finishing the season with 3 top five finishes, 5 top ten finishes, 7 fast dash appearances and a 5th place finish in the season point standings at Dells Raceway Park. This led to the Pro Late Model 2021 Most Improved Driver Award.
Jump Racing is building a new state of the art chassis for the 2022 season to compete for the Pro Late Model Championship at Dells Raceway Park and would be available to compete at other Pro Late Model events. Jump Racing has also teamed up with ME Motorsports for several Super Late Model events.